FAQ : Frequently Asked Questions on ae&t company and our products
If you do not find an answer to your question here, please do not hesitate to contact us on +33 (0)559 060 600 or email info@aet.fr
ae&t company
How to contact ae&t ?
(+)
Our salesteam are available from Monday to Thursday from 8.00 am to 12.30 am and from 1.30 pm to 5.30 pm and on Friday from 8.00 am to 12.30 am and from 1.30 pm to 5.00 pm.
You can also contact us :
Call us +33 (0)559 060 600
Email info@aet.fr
Our address : 4 impasse Joliot Curie – 64110 Jurançon – France
Fax +33 (0)559 064 463
What are ae&t activities ?
(+)
To know more about ae&t activities, our manufacturing, our commitments, our values, please find our answer at the menu ...
AND US
.
First steps on www.aet.fr/en
aet.fr/en is the ae&t company website. We are manufacturer and reseller of safety products. With aet.fr/en, you have access to product code, technical datasheet and lead-times.
Fulfil the form « request for quotation » with your name, company, email address, country and your message and submit your quote.
How delete a product code from my favorite list ?
(+)
To delete a product that you add to your favorite list, click on the product (you come back to the product page) then you click again on the star.
Transport and delivery
What about the transport ?
(+)
Our goods are generally sent by courier for parcels under 30kg, and by haulier for parcels over 30 kg, unless the customer specifically requests otherwise in writing, in which case an additional charge will apply, depending on the chosen delivery method.
Our goods are deemed delivered when the haulier hands them over or when the buyer signs the delivery notes for deliveries made by ourselves. We assume no liability when our goods are collected from our premises by our customers or their haulier. Irrespective of the mode of transport, goods always travel at the risk of the consignee, whose duty it is to inspect them on arrival and note down any reservations on the haulier's waybill and send them by registered letter with acknowledgment of receipt, in the event of damage, loss, theft, etc., send to ae&t within 48 hours of receipt.
What about carriage ?
(+)
Outside Metropolitan France : a specific quotation will be made depending on the concerned country.
Where are the general terms and conditions ?
(+)
Informations produit
Comment fonctionne la recherche produit ?
(+)
Nous avons mis en place 2 chemins d'accès aux produits pour vous faciliter la navigation.
Dans l'en-tête du site internet d'ae&t, vous trouverez la barre de recherche. Rentrez simplement le nom du produit, un mot-clé ou une référence dans le champ de recherche.
Vous pouvez accéder à tous les produits via la rubrique PRODUIT située dans le bandeau du menu.
A quoi correspondent les 3 pastilles de couleur pour la disponibilité des produits ?
(+)
Pastille verte : Disponible
Pastille orange : Expédition sous 3 à 4 semaines
Pastille rouge : Expédition dans plus de 4 semaines
Comment être conseillé ?
(+)
Vous pouvez joindre ae&t au numéro suivant : +33 (0) 5 59 06 06 00 du lundi au jeudi de 8h à 12h et de 14h à 17h30 et le vendredi de 8h à 12h et de 14h à 17h. Vous pouvez aussi nous envoyer un message à
info@aet.fr
.
Nous traiterons votre question le plus rapidement possible.
Comment obtenir un catalogue produits papier ou pdf ?
(+)
ae&t met à disposition des clients plusieurs catalogues généraux par gamme de produit que vous pouvez consulter et télécharger gratuitement dans la rubrique
DOCUMENTATION
. Vous pouvez également faire une demande de catalogue papier dans la rubrique
NOUS CONTACTER
.
Quelle est l'importance des IP ?
(+)
En tant que fabricant de solutions industrielles, nous garantissons un Indice de Protection de nos produits contre les corps solides et liquides. Dans le tableau-ci après, sont résumés les différents niveaux de protection.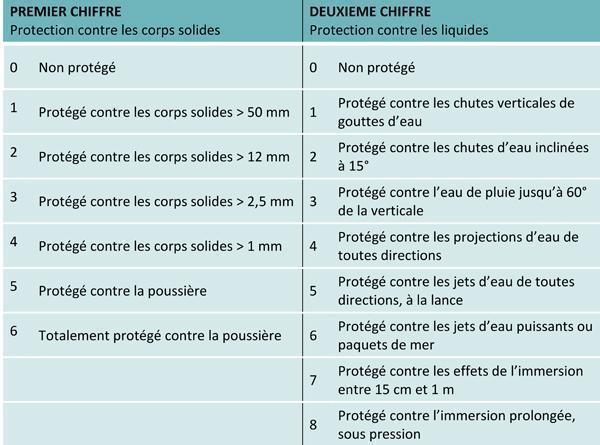 Que signifie zone ATEX ?
(+)
Une zone ATEX est une zone à risques d'explosions dans laquelle seuls des équipements spécifiques peuvent être installés. Consultez le
Guide ATEX
pour en savoir plus sur la réglementation et mieux comprendre tout ce qui concerne ces zones dangereuses.
Comment définir ma zone ATEX : 0,1,2,21,22 ?
(+)
Pour plus d'informations, consultez le
Guide ATEX
.
Que signifient les couleurs optiques ?
(+)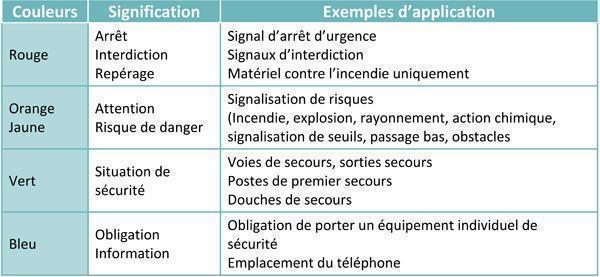 Dans notre catalogue produit optiques ou combinés, vous trouverez les informations du choix de couleur d'optique dans la fiche produit.
Quelle est la garantie des produits ?
(+)
En raison de la confiance dans ses produits et afin de prouver son engagement envers la sécurité et la qualité, ae&t offre à ses clients une extension de garantie jusqu'à 3 ans.
Plus d'informations dans les
Conditions générales de vente
.
Comment fonctionne l'éco-contribution ?
(+)
Lorsque vous achetez un produit, vous versez l'éco-contribution à ae&t.
Par exemple :
# Pour un maxi feu tournant Optason® O400T en 230 Vca, l'éco-contribution est de 0,04 € HT en 2018.
# Pour une sirène ATEX BEXS110D en 24 Vcc de 117 dB, l'éco-contribution est de 0,27 € HT en 2018.
ae&t reverse les montants de l'éco-contribution à Récylum, l'organisme officiel agréé par les pouvoirs publics.
En retour, Récylum récupère les déchets. Vous souhaitez confier vos équipements usagés à Récylum afin qu'ils soient dépollués et recyclés conformément à la réglementation.
Il existe une solution adaptée à votre besoin, containers mis à disposition ou dépose en points de collecte, quelles que soient les quantités d'équipements usagés que vous détenez.
Réclamation
Comment contacter le Service Client ?
(+)
Du lundi au jeudi de 9h à 12h et de 14h à 17h30 et le vendredi de 9h à 12h et de 14h à 17h par téléphone au +33 (0)5 59 06 45 45 ou par mail :
info@aet.fr
.
Comment contacter le SAV ?
(+)
Vous pouvez joindre le SAV d'ae&t au numéro suivant : +33 (0)5 59 06 45 45. Vous pouvez aussi envoyer un message à
sav@aet.fr
.
Comment accéder à la règlementation ?
Vous pouvez consulter les différentes règlementations dans la rubrique
DOCUMENTATION
.